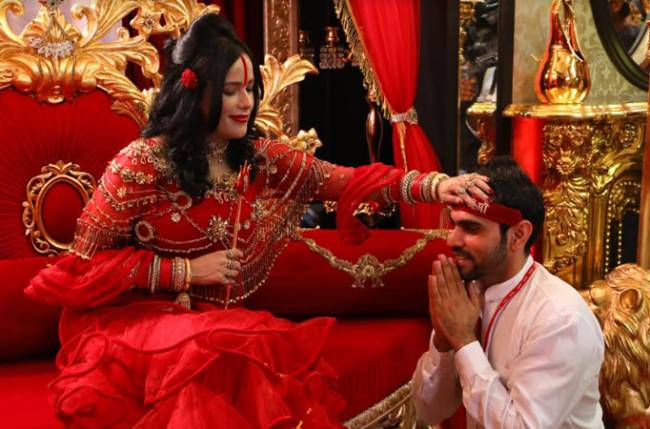 Shree Radhe Maa is like a mother to me: Ramman Handa

Producer Ramman Handa talks about his new web series Raah De Maa as well as the support he has received over the years from the Godwoman herself.
What response has the trailer of Raah De Ma received? How did you think of casting Radhe Maa?
I'm overwhelmed by the response from the audience. In such a short span of time, the trailer has gone viral and we have got so many views on YouTube and Facebook. People are enjoying the trailer a lot and I have got so many calls of appreciation. People are finding it funny and they are enjoying the punch lines. The series has a very strong social message that will bring a strong impact in the society, and thanks to the presence of Shree Radhe Maa, the social message has become more impactful and will attract more audience. It is going to release on 21 August 2018.
Shree Radhe Maa has an amazing personality, and although people troll her videos, many love and follow her as well. So, when we got the script ready, our creative head Vineet Raina came up with the idea that we should have someone with a very strong hold to convey the message to our society. What is better than to have this message conveyed by spiritual personality Shree Radhe Maa instead of any actor. And people listen to what she says, so our idea of conveying the social message through Shree Radhe Maa was quite strong. The best part was that she accepted our request to be part of the series. She has been the biggest support to us while shooting as well. She has provided us with the Radhe Maa Palace for shooting along with her real followers.
Shree Radhe Maa considers me as her son and she really means it. She has supported me in all possible ways and she stands by me, no matter what. She has guided me so many times and I consider her words final and listen to her without a second thought. Being a spiritual figure, she still came to the trailer launch. That is how much she feels for me. I respect and love her a lot, and she is not just like my mother but is my mother. She has blessed me with immense success and happiness. And it's her prediction to me that this series will do extraordinarily well. And my faith and belief in her is so strong that I'm confident about the success of this series.
What's next for Natak Entertainment?
Natak Entertainment is my dream and the series Raah De Maa is an initiative that will take our company to another level. Now, we shall be getting more content, and after the portal launch, we can produce as much content as we want. I would love to try my luck in feature films as well and try to take Indian cinema internationally.
What TV shows have you been a part of? Do you think about getting back to acting?
I have been a part of Rakhi Ka Swayamvar, Gladrags Megamodel Hunt 2010, India Ka Fashion Star, Karma, Detective Dolls, Pariwaar, Hello Pratibha, and many more. I would love to continue acting if I get a promising role. I have also acted in my own production house's short film Karma. I would love to be a part of a show like Bigg Boss as well. Let's see what's there in my destiny as an actor. I'm open to possibilities.
What changes has the industry undergone over the years?
Over the last few years, the film industry has changed a lot, as the mindset of the audience has changed. The audiences have become more intelligent and elevated. So, we need to work on good concepts. Earlier, it was a star-oriented industry, but now the new trend is that script is paramount.