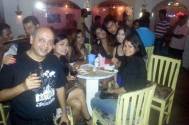 Sony TV's Jaane Kya Hoga team enjoys an 'ice breaking' party
With the cast of a show becoming like family for TV actors, Optimystix Productions recently decided to have an 'ice breaking' party for the team of its upcoming project Jaane Kya Hoga.
The show on Sony Entertainment Television will be a different project set in 2025, with advanced technology and modern outlook in life taking centre stage.
Jaane Kya Hoga stars Lubna Salim, Sanyukta Timsina, Garima Jain, Akhlaque Khan, Kunal Thakkur, Sharmilee Raj, Neha Thakur and many more.
The production house that has been conducting extensive workshops for the actors decided to treat them and organised a fun outing at a suburban lounge. The entire cast hopped in and enjoyed the ice breaking session.
The objective of the party was to get the cast to know each other well and come closer. And it did, for the team had a gala time letting their hair down and enjoying time with their 'new family'.
Talking about the same, pretty Garima said, "It was a fabulous idea from the producers to get everyone together under the same roof. From actors to the writers, directors and also the VFX team, everyone introduced themselves to each other and got into a nice comfort zone. Next lined up is the promotional photo shoot followed by the promo shoot! I am really excited to have found such a nice new family and looking forward to a great time ahead."
Wow! Isn't this a great way to start a new project?
We tried reaching producer Vipul Gupta for a comment but he remained unavailable.