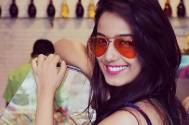 Srishty Rode in a celebrity special of Big Magic's Bal Gopal
After wooing audiences with a celebrity special appearance in Big Magic's Mahisagar, actress Srishty Rode will now be seen in yet another celebrity role in the channel's show, Bal Gopal.
In this episode, Srishty will be seen playing the role of a journalist who comes into the life of Gopal Sharma (Satyajit Sharma) for a special cause.
As per a source, "Gopal Sharma will want to spread a special message to people and create an awareness. Hence, he will call upon Srishty's character to do the needful and help him out. The promo for this special episode will air from today, and the episode will go on air very soon."
When contacted, Srishty told us, "I had earlier done a celebrity special for Mahisagar, and wished to be part of Big Magic yet again. An appearance in Bal Gopal has indeed made me happy."
Here's wishing Srishty good luck!!