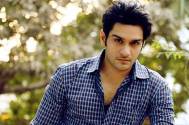 Sumit Verma and Akanksha Chapola in &TV's Bhagyalakshmi
Rashmi Sharma Productions aired its family drama Bhagyalakshmi on &TV last night. The show brings back 70's reigning actors Aroona Irani, Rita Bhaduri and Anil Dhawan in pivotal roles.
Now as seen in last night's episode, the buzz was all about Avni's wedding. Playing this bubbly and cute girl Avni will be newcomer Akanksha Chapola. And marrying her will be the good looking Sumit Verma, who was last seen in Shastri Sisters.
Shares a source, "The young couple will be a cute and loving pair. With Vikram having relations with Aroona Irani's family he will play an important role in getting the two families together."
On one hand Akanksha's character will be completely positive and happy go lucky, on the other Sumit will have a lot of layers.
Sumit and Akanksha confirmed the development.