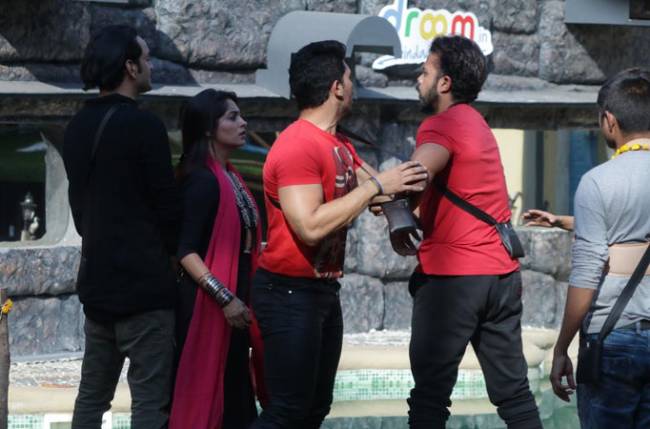 Synopsis Day 45: Sreesanth is the 'Pataka' of the Bigg Boss houseSynopsis Day 45: Sreesanth is the 'Pataka' of the Bigg Boss house

MUMBAI: In Love, hatred, laughter and sadness all contestants have been trying to keep a cordial relationship with each other. While Shilpa Shinde and Vikas Gupta's entry brought about a cheerful atmosphere, they also divided the house into two parts for the 'BB Gaon Ki Rangoli Pratiyogita'. After facing the hurdles laid by the opposite team, the Gupta Pariwaar won the first round.
With a new day, it was time for the second phase of the task to begin. Everyone were pumped up and tried to save their rangoli from the opposition team. In the task, Sreesanth's participation was the least as compared to everyone else. Seeing this, Vikas questioned Sreesanth about his behaviour due to which Sree shifted to Shilpa's team in anger. Even though he changed his team, his behaviour didn't seem to change as he got into a squabble with Dipika and KV. Shivashsih tried to calm him down but Sreesanth didn't seem to stop which made Dipika cry and give up. However, amidst the skirmish, both the teams were trying their best to win the task.
The Bigg Boss house has already begun celebrating the festival of lights with much gusto. Keeping in mind Bigg Boss' love for festivals, a lot more surprises might come in for the contestants.
Which team will win this task and who will be eligible for the Fizz captaincy of the week?