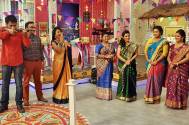 Team 'Har Har Byomkesh' to grace Zee Bangla's 'Didi No. 1'
Can you guess who will be the guests in the upcoming episode of Zee Bangla's Didi No. 1?
Well, the coming episode of this game show will enjoy the presence of the team Har Har Byomkesh.
Yes, you heard it right.
Director Arindam Sil and actors Abir Chatterjee, Ritwick Chakraborty and Sohini Sarkar will grace the occasion.
Har Har Byomkesh is an upcoming Bengali mystery thriller based on the fictional sleuth, Byomkesh Bakshi, created by the author Sharadindu Bandyopadhyay.
With the presence of such stars, the evening is surely going to shine.
Anchored by the gorgeous lady Rachana Banerjee, it will air on 15th December at 5 pm on Zee Bangla.