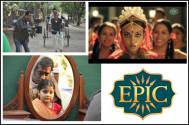 The EPIC Channel unveils first look of 'Stories by Rabindranath Tagore' directed by Anurag Basu
The EPIC Television Networks Pvt. Ltd is launching a new show called 'Stories by Rabindranath Tagore' which is directed by none other than the acclaimed director, Anurag Basu. On the occasion of Rabindranath Tagore's birthday being celebrated on May 9th, the channel releases the first look of the show as a tribute to the famous writer. Coincidently, Anurag Basu and Rabindranath Tagore share the same birthday according to the Bengali calendar.
In the show, Anurag Basu masterfully recreates the magic of old Bengal through some of Tagore's short stories and novels, like Choker Bali, Charulata, Atithi, Kabuliwala and many more.
Rabindranath Tagore's stories are known for establishing confident women characters and pushing them over the edge to question authority, norms and customs, making each story even more intriguing and endearing. 'Stories by Rabindranath Tagore' explores the different roles that women play and the bold steps that they took in the nostalgic times of old Bengal, in many trying situations, most of which are still relevant even in today's times.
Anurag Basu has brought in talented actors to play pivotal roles in his recreations of Tagore's stories. Amrita Puri makes her debut on the show as 'Charulata' and Radhika Apte as 'Binodini' in Chokher Bali. The show will go on air this July on The EPIC Channel.