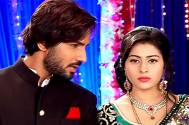 Tough times ahead for Ravi and Devika in Life OK's Kalash
It is not uncommon for the hero and his lady-love to part ways in daily soaps. But the one show which has taken this theme way too seriously happens to be Life OK's daily drama Kalash (Balaji Telefilms).
Till now, we have seen Ravi (Krrip Suri) making all the efforts to convince Devika (Aparna Dixit) that his love for his wife is genuine. Now, tables till turn, and while Devika will be the one trying to resolve things, Ravi will keep a distance from his wife.
Yes, after saving Ravi from Saket's (Mahesh Shetty) evil intentions, Devika will shower all her love over Ravi.
A source shares, "With Devika becoming aware about Saket and Navi's (Donal Bisht) evil mindset, she will understand that Ravi has always been a supportive husband and her decision of breaking her relation with Ravi was indeed wrong. Devika will be seen trying to express her feelings for Ravi, while Ravi will be deeply hurt and will avoid his wife."
Oops!!!
So will the good old days return for Ravi and Devika?
Aah, no!! Now, Navi will take advantage of the situation and will try to create a rift between Ravi and Devika…
When contacted, Aparna remained busy shooting.
Will Navi be successful? To know the answer, you have to keep hooked to your television screen.