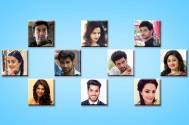 TV actors and their interesting NICKNAMES
When it comes to nicknames, some people shy away from declaring it, while others love their cute and cool petnames.
Like everyone of us, even our TV actors have some interesting nicknames that are used by close friends, family and fans.
Want to know what are those? Let's hear it from them…
Ashish Chowdry: My friends lovingly call me Chowchow.
Pearl V Puri: As I was a little healthy in my childhood days, my family calls me Golu.
Gautam Gulati: My family, friends and fans call me Gauti.
Kushal Tandon: My family fondly call me Kushu.
Shakti Arora: Neha (Saxena) calls me Duggu and mom calls me Raja beta.
Preetika Rao: Pree; that's the nickname given to me by my fans. But now, most of my friends alsp call me Pree. I really find it short and sweet.
Anita Hassanandani: My entire family still calls me Kukki (smiles).
Aishwarya Sakhuja: I looked like a Chinese, when I was born, hence, my family started calling me Cheena.
Helly Shah: My mom lovingly calls me Hellu.
Paridhi Sharma: I have many nicknames, but my favourite is Pari and Gudiya.
Isn't it cool? Do share your nicknames with us by commenting below!