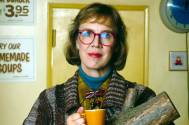 Actress Catherine E. Coulson, who played the Log Lady on David Lynch's TV series "Twin Peaks", is dead. She was 71.
The actress died on Monday morning of cancer, reports variety.com.
"We are all deeply sad, she meant so much to so many," said her agent Mary Dangerfield as she confirmed Coulson's death.
Coulson, who also worked as a camera assistant, reprised the Log Lady role in the feature "Twin Peaks: Fire Walk With Me", and also appeared in an episode of "Portlandia", apart from being seen in the film "Redwood Highway."
"Today I lost one of my dearest friends, Catherine Coulson. Catherine was solid gold. She was always there for her friends – she was filled with love for all people – for her family – for her work. She was a tireless worker," Lynch said in a statement.
"She had a great sense of humour – she loved to laugh and make people laugh. She was a spiritual person – a longtime TM meditator. She was the Log Lady," Lynch said.
Coulson worked with Lynch as an assistant director on his 1977 debut feature "Eraserhead", where they began discussing the idea of a woman who carried around a log.
She described her Margaret Lanterman character as the "only normal person on the show," but qualified that she's "had some trauma and bonded with this Ponderosa pine". The ABC show ran for two seasons in 1990 and 1991.
She also appeared in Lynch's 1974 short film "The Amputee" as a woman with both legs amputated.
Coulson worked as first or second assistant camera on "Star Trek II: The Wrath of Khan," "Modern Romance," "Youngblood" and "Night on Earth."
After moving back to her birthplace of Ashland, Oregon, she appeared in numerous plays for the Oregon Shakespeare Festival, including "August, Osage County," "Much Ado About Nothing," "Hamlet" and "Chicago." Elsewhere, she appeared in "Major Barbara", "The Elephant Man" and "The Threepenny Opera".
Coulson was married to "Eraserhead" and "Twin Peaks" star Jack Nance before marrying Marc Sirinsky, with whom she had a daughter.