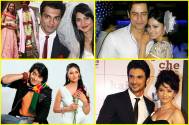 TV Celebs: Yes to affair, No to marriage
Falling in love is easy, but staying in love is very difficult, especially in the world of glamour.
And the most difficult part is taking the ultimate leap…the leap of lifetime commitment…that of marriage.
In the Indian television industry, there are couples who have been in love and have been dating some quite some time now, but are yet to take the holy nuptial vows. Let's see who they are:
It's Over: Divyanka and Ssharad
They were supposed to be committed and how. Divyanka Tripathi and Ssharad Malhotra dated each other for over seven long years, but sadly the two have now split and the reason is being said to be marriage. Divyanka wanted to tie the knot but Ssharad still needed more time. Marriage apparently is a relationship breaker here.
Career First: Mouni and Mohit
The God and Goddess of the small screen, Mohit Raina and Mouni Roy are head over heels in love. As per media reports, Mohit wants to focus on his career and Mouni, though career oriented, is inclined to take the saat pheras. Only time will tell when they would print their wedding invitation cards.
The Waiting Game: Sanaya and Mohit
They met and fell in love on the sets of Miley Jab Hum Tum. Yes, we are talking about Mohit Sehgal and Sanaya Irani. The two have been in a relationship for many years now, but when it comes to marriage, they have chosen to play the waiting game.
Family Trouble: Anas and Rati
The world knows that the two are besotted with each other and rumour mills also whisper about them living in, something we cannot confirm. Every now and then news about their marriage crops up, but it dies down soon.  From last what we have heard, family issues could be keeping the nuptial vows at bay. But yes, Anas Rashid and Rati Pandey too are yet to exchange rings officially.
Just Chilling: Suyyash and Kishwer
The lovely couple, Suyyash Rai and Kishwer Merchantt, has been dating since a long time now. They are open about their relationship and walk hand in hand, hip in hip, for all major events. But still, the two shy away from wedding. Reason? We are told that they are waiting for the right time. It's all about chilling at this point of time.
Bollywood Dreams: Ankita and Sushant
Their pavitra rishta is known to all. They live together in their home of dreams called Amore. Although all is well in their relationship, Ankita Lokhande and Sushant Singh Rajput are yet to tie the knot. What's holding them back? Many say Sushant's Bollywood aspirations.
Commitment Issues: Karan Singh Grover and ….
He has been in love and even got married a couple of times, but has serious commitment issues. Karan Singh Grover married Shraddha Nigam and Jennifer Winget and divorced both. Not to mention about his affair stories. Latest, he is believed to be dating Bipasha Basu. For KSG, affair is a big yes, but marriage a big No No.
To Do or Not To Do: Pooja and Raj
Pooja Gor and Raj Singh Arora are a perfect couple. They complement each other perfectly. However, there is a glitch. Industry sources inform that Pooja is ready for a lifetime commitment but Raj has marriage phobia. He wants to be a free bird. Hmm…so where will this bird finally land, only time will tell.