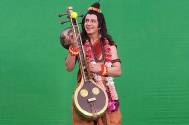 Vijay G Badllani to do a 'Chamatkaar's Naseeruddin Shah' act in Yam Hai Hum
The challenge for Yam (Manav Gohil) and Chitragupt (Atul Parchure) will now be on the cricketing field in SAB TV's popular show, Yam Hai Hum (Swastik Productions).
As we know, a layman Ajay will challenge Yam for a cricket match, and will accept to clear Chaman's dues if Yam would win the match against his team.
Well, in the coming episodes, the task will be cut out for Yam as the opposition team will bring in umpires who would favour only them. And this will eventually mean that Yam can never win the match without any kind of help…
And as usual, Yam will hit a ball high in the air, and the ball will enter Yam lok and knock Naradji (Vijay G Badllani) down. Upon Yam's insistence, Naradji will yet again descend to Earth to help Yam win his cricket game.
What we hear is that the cricket match will be an exciting watch for viewers, with lot of tricky situations engulfing Yam and his team.
And what's more? Yam will be helped by Vijay G Badllani's character who would go invisible, and bully the umpires to take the right decisions.
We hear that this sequence will be similar to that of the Naseeruddin Shah's magical moments on the field of cricket in the Shahrukh Khan movie Chamatkaar.
When contacted, Vijay told us, "Yes, Yam will play a cricket game to help Chaman overcome his losses. I am told that Naradji will be called in by Yam for assistance. But we are yet to shoot the sequence."
Will Yam and his team win the match?
Get ready to watch this interesting cricket match…