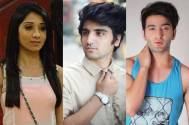 Vrushika, Shraey and Amaad in Pyaar Tune Kya Kiya
Zing TV's Pyaar Tune Kya Kiya (Lost Boy Productions) has been presenting some beautiful love stories every week.
In the coming episode gear up to see a dance based episode that will feature the popular Vrushika Mehta (Dil Dostii Dance), Amaad Mintoo (MTW Warrior High) and Shraey Khanna (professional dancer).
The story will be based on the trio, Sanaya (Vrushika), Ashwini (Shraey) and Anshuman (Amaad) who will be really passionate about dance. Sanaya and Ashwini will be in love, though Anshuman too will have feelings for Sanaya.
How dance goes on to change their equation of love and friendship will be for viewers to see.
Talking about her experience Vrushika said, "Though we couldn't get much time for rehearsals, we have given our best and I am sure our audience will like the story and our performances. It is always a pleasure to go back to dancing and I really enjoyed my time shooting."
Amaad also added, "I am a trained Bollywood freestyle dancer, but I tried contemporary for the first time. It was definitely a great experience shooting for the show and I really had a gala time."
Creative Director of the show Saurabh Arora also added, "Dance is the best way to express love and through our story we have also tried our best to define relationships through dance. This tale will definitely touch a lot of hearts!"
The episode will air this Friday (19 June).