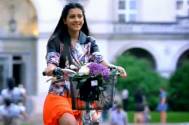 Why You Are Amaya Mathur from Tere Sheher Mein
One of the few shows on the small screen that's creating ripples without being over-the-top is Tere Sheher Mein on Star Plus (Director's Kut). It has a fresh storyline, a dedicated cast, beautiful locations and a strong script. If you've have been following it religiously, you would have definitely been floored by the protagonist Amaya Mathur, played by Hiba Nawab. Here are five reasons why you could be like her…read on:
Fashionista to the Core:
Amaya is a fashion student at Paris, who loves all things fancy and stylish. From her perfect hair to her well-coordinated clothes, she is nothing less than a diva. Even when she had to move to India post her father's untimely death, her elegant sartorial choices did not take a beating. She kept her sexy streak alive, despite being seen in casual Indian wears unlike the western outfits of her Paris stint. If you are a girl who loves to shop, play dress-up, and look stylish, you're definitely Amaya. The pretty lady not only likes to wear cute clothes, but also loves shopping for them! She calls it a therapy and indulges in it whenever she is low.
Sisterly Love:
She might seem shallow sometimes, but her love for her sisters is genuine. She is fiercely protective of them and doesn't let anybody tick them off, while herself having fun banters with them! May be that's what we call it love. Her sisters also look up to her and take her help whenever they are stuck in a situation. Because they know how practical, forward and intelligent their sister Amaya is. If you're born with a bunch of sisters and are close to them, you could certainly be like the lead star of the show. From sharing clothes, boy talks to the pain of losing a parent, they never let go of each other.
Determined Girl:
It can come as a rude shock to a privileged child to suddenly live a middle class life. That's exactly what happened to the Mathurs when the father died, leaving the girls to face a harsh reality. Amaya and her sisters, who have been brought up in luxury and with practically a silver spoon hanging from their lips, the change was a shocking wake-up call. It was Amaya who picked up the pieces together and made sure her family didn't crumble under pressure. We have always seen her a free-spirited, fun-loving youngster. But her superman father's death not only made her a strong girl, but also a responsible one. Her determination and focused outlook helps her family start afresh in a new city. Gone are her carefree days as she has to take care of her sisters and mother to be able to survive this cruel society. Can you relate to her? If so, pat yourself!
Daddy's Pet:
Daughters are close to their dads, which is a known fact. But Amaya was an out and out daddy's little girl who referred to him as her 'Superman'. She adored him, worshipped him and strived to be a wonderful person just like her dearest daddy. While her sisters loved their father too, it was Amaya the dad was closest too as she was the one most similar to him. If her sisters and mother were shattered by his sudden death, Amaya was broken apart. For a while she didn't know what to do, but she picked up her pieces when she realised that's what her papa would have wanted her to do. Are you your daddy's little girl too?
Tough Soul
They feisty young girl can do anything she wants because she has seen too many things too soon in her life. If you're a fighter like her, be proud of yourself and your achievements. All those who feel that girls are weak and can't take care of themselves have never met a girl on a mission! Because if she wants, she will get it…
Do you like this show? Do you think the bond between the characters is real and relatable? Let us know your thoughts in the comments section below…