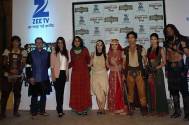 Zee TV launches Janbaaz Sindbad
The world was meant to be a place where people lived in harmony and peace. Unfortunately, it fast turned into a playground for an evil force so powerful that it could control the minds of mere mortals and turn them against each other. Iblis, the embodiment of evil was unstoppable and soon the world got divided physically, emotionally and spiritually. However, a few good men – the seven protectors, managed to capture Iblis and tie him up with seven chains in the dark underbelly of the ocean as they could only subdue him, not destroy! Now, his most loyal disciple, Keharmaan, wants to unlock and resurrect Iblis and unleash unimaginable horrors on the world. The only way to keep Iblis grounded is to ensure that there is always a positive balance in the account of Good versus Evil in the world. It is only if noble deeds and acts of kindness outnumber acts of evil, crime and negativity that Iblis can be kept from rising from under the seas and destroying the world.  To wipe away this evil from the face of the earth, comes a swashbuckling hero – Janbaaz Sindbad. Starting 27th December at 7PM every Sunday, Zee TV will take its audiences through Sindbad's tumultuous journey across every sea, where he faces dangers from ferocious dragons, strange tribes, creatures of the ocean and other forces of evil. His quest is not one of tiding over the mere manifestations of evil but uprooting evil itself. The show will be co-produced by Sagar Pictures and Ashvini Yardi.
Zee TV Business Head Pradeep Hejmadi says, "Fantasy, as a genre, had little or no representation on Indian television until we introduced the Maharakshak trilogy last year and gave the audiences an original superhero series. Now with Janbaaz Sindbad, the idea is to bring an adventure series with elements of fantasy. The show is an adaptation and creative interpretation of the popular story of Sindbad and his voyages across the oceans. Sindbad will be seen as a harbinger of hope as he sets out on a mission of eliminating evil from the face of this earth. His journey will be packed with excitement as it transports viewers into an alternate reality – one of adventures in the water world, fascinating landscapes and creatures with supernatural powers. Even with its larger-than-life canvas and the story of a surreal world, the core emotions remain basic and relatable. The premise of a battle of good versus evil strikes a chord universally."
Producer Meenakshi Sagar, Sagar Pictures, added, "We, as a family, are the pioneers of the fantasy genre on Indian television with shows like Alif Laila, Hatim and Aladdin. Our partnership with Zee TV goes back a long way, and in recent times, has given audiences the universally appreciated Jamai Raja. We now bring alive the story of Sindbad. The water world that forms the canvas of the show has been created through a sprawling set with life-size ships and palaces combined with state-of-the-art graphics technology. We've pushed the envelope where it comes to set design, production values and post-production to ensure that the end-product is vibrant and fascinating. We've got a great cast on board and aim to set a new benchmark for the fantasy genre on Indian television with Janbaaz Sindbad."
While the young and spirited Harsh Rajput will essay the role of Sindbad, the dashing model Aryan Vaid will return to television as Zafar, his father. The evil Kehermaan will be played by the talented actor Tarun Malhotra. The show will also see the return of the charming actor Mamik Singh as Arsalaan and veteran actor Chander Mohan Khanna will lend his powerful persona to the role of the Guru of Zafar. The vivacious Isha Chawla will play the lady love of Sindbad, Kaya.
Noted set designer Sanjay Yadav along with creative inputs from producer Amrit Sagar has created an outdoor set sprawling over 70,000 sq feet, two massive indoor palaces and two life-size ships. An interesting aspect to note about the process of filming 'Janbaaz Sindbad' is that the production house has embraced the 'Zee is Green' initiative undertaken by ZEEL (Zee Entertainment Enterprises Ltd) – a mission aimed at developing the next generation of production practices that put people and profits in sync with the planet. The objective is to raise awareness, build capacity and foster the widespread adoption of economically viable, environmentally restorative and socially constructive processes. In tangible terms, this translates to effective segregation and recycling of waste. The production also plans to adhere to 'Zee is Green's guidelines for optimization of energy consumption, minimal use of paper, water management and usage of non-toxic materials and so on.
A differentiated show like 'Janbaaz Sindbad' calls for a differentiated marketing campaign.  A mix of television, print, radio, digital, outdoor and transit media form the crux of the 360 degree integrated marketing campaign. Apart from regular GEC viewers, there will be a focused impetus to target males and kids to tune into the show. On the launch day, consumers will wake up to an interactive print ad with a graphical representation of Sindbad's quest to find and eradicate evil. The on-air promotions are also a mix of promos and short duration disruptors. Transit media has been used to deliver customized public service announcements in trains, buses and Delhi metros with a common message from Sindbad – "Ride safe, leave the adventure to me". On the digital front, short interactive games have been curated to build stickiness around the character and the concept of the show.
Catch Janbaaz Sindbad as he sails out on a mission to uproot evil from the face of this earth and restore Ummeed, starting 27th December every Sunday at 7 PM, only on Zee TV.