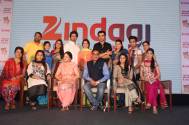 Zindagi and Ajai Sinha present Aadhe Adhoore
After the success of the first of its recently launched original show Bhaage Re Mann, Zindagi is all set to roll out its second home-grown fiction series – Aadhe Adhoore. A compelling concept of relationships, betrayal and unrequited emotion, the show turns the spotlight on the new age woman who is in touch with her deeper self, knows who she is and is not apologetic about it. Set in Kapurthal, Aadhe Adhoore centres on the lead protagonist, Jassi's life. Premiering on 14th December at 9:50 PM, the show promises to engage its viewers with its strong narrative and unconventional story line.
Making a comeback on television with this show is renowned producer and director Ajai Sinha. He is known for landmark dramas on television like Hasratein, Justajoo, and Astitva- Ek Prem Kahani. Produced by Ajai's production team, Ananda Films, Aadhe Adhoore is a story of Jassi who tries to strike a perfect balance between the emotions she feels and the circumstance she finds herself trapped in, even while she is the perfect wife, bahu, and bhabhi. Essaying the central character Jassi is charming actress Sonali Nikam. The show also has an ensemble of well-known actors like Geeta Udeshi, Rohit Bhardwaj, Priyanka Khera, Mohak Khurana, amongst others.
Priyanka Datta, Cluster Head – Zindagi & Zee Anmol, said, "After receiving an overwhelming response to our first original fiction series, Bhaage Re Mann, we are optimistic that audiences will also enjoy Aadhe Adhoore. The show is the modern Indian woman's take on her life with an underlying mantra – "Follow your heart! Strong narratives, realism in storylines, unconventional concepts and power packed performances have now become synonymous with Zindagi. We take a step ahead in our distinctive brand of storytelling with the next original fiction show, Aadhe Adhoore. It showcases real relationships that will appeal to audiences both mentally and emotionally and we have television's most daring producer, Ajai Sinha, making it. It's all about presenting the story with sensitivity and realism for our audiences."
On his return to television, Ajai Sinha says, "I've always tried to push the envelope when it comes to content and presented stories that stand out. Making a show for a channel that is differentiated from regular GEC's and has got critical acclaim for its content like Zindagi has been a challenge for me. We wanted to create a show that brought out the essence of the modern Indian woman – the real woman whom we see around us. The casting, screenplay, locations, original soundtrack will be of a quality that will surely set it apart from what's seen on television today and I hope audiences will love the story and its characters like they have in all my earlier shows."
Aadhe Adhoore premiering 14th December 2015 at 9:50 PM only on Zindagi