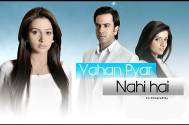 Zindagi presents another beautiful drama…Yahan Pyar Nahi Hai
You have loved every story that Zindagi has brought to you since its inception. The channel proudly announces the launch of its next drama series, Yahan Pyar Nahin Hai that promises to entrance you with its differentiated story line. Premiering 19th October at 9.00 PM, the show traces a journey of an unhappy couple and leaves the audiences wondering whether they will ever find love.
Yahan Pyar Nahi Hai is a story of the distraught marriage of Saim, and Haleema. Saim, regretting his decision of marrying Haleema since she is not well educated, humiliates her at every chance he gets. The drama takes a turn when Shumaila, Haleema's cousin and also a medical student, takes advantage of this situation and tries to break their marriage by luring Saim towards her. Haleema unable to do much is forced to face her circumstances in silence. Shumaila's brother, aware of the situation, tries his best to save his cousin Haleema's marriage.
What does destiny have in store for Saim and Haleema? Will Shumaila's brother succeed?
To find out, tune in to Yahan Pyar Nahi Hai, premiering 19th October at 9:00 PM only on Zindagi.