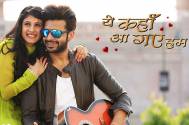 5 things we would love to see in Yeh Kahan Aa Gaye Hum
&TV's Yeh Kahan Aa Gaye Hum (Balaji Telefilms) is much loved by the audience because of the lead pair Rahul and Maanvi. The show is currently revolving around family enmity and the adventures of the recently married couple. However, the loyal fans are eagerly waiting for certain twists in the upcoming episodes. So, we list down 5 things that we wish to see in the daily…take a look:
A rocking performance
As we all know that both Maanvi and Rahul are ace singers, so a jugalbandi is a must. What say, people? Well, a rocking concert where the two perform together would be treat to watch.
Less of family rivalry
It's high time the families settled their issues, and relaxed for a while. Since the beginning of the episode, both sides are fighting…time they called it a truce?
Rahul and Maanvi's romance
After a lot of drama, the viewers should finally get a glimpse of the cute love story of Maanvi and Rahul. We want to see Rahul realizing and confessing his love for Maanvi. Along with some hot romantic moments.
Other actors should get prominence
Apart from Rahul and Maanvi, other important actors should also be given prominence and screen space. That's only fair, we believe.
Saas Bahu tadka
We are bored with Maanvi and Rahul's fights, but it would be great if the saas-bahu have a battle of sort. This would add a touch of tadka to the show.