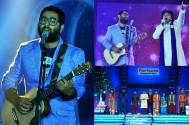 Arijit Singh to enthral in the grand finale of Zee Bangla's 'Sa Re Ga Ma Pa'
It is time to watch one of the star studded television shows of 2016!
Wondering which show are we talking about?
Well, we are referring to the grand finale of Zee Bangla's Sa Re Ga Ma Pa.
Yes readers, finally the day has come to witness the finale of this reality show.
The young brigade of singers left no stone unturned to mesmerize the judges (Shantonu Moitra, Shubha Mudgal, Palash Sen and Koushiki Chakraborty) and the millions of viewers with their talents and dedication.
And after months long rigorous practice, finally the passionate journey of the young enthusiastic participants will come to an end.
The team promises the D-day to be a star studded affair with glitz and glamour.
Viewers would get to see the performance of violin brothers with the entire group of 31 violinists, 200 Khol Players along with Kirtan, 35 Dhakis, Dhamsa Madol Group (Tribe from Sundarbans), Manipuri Pung Players ( they play while jumping off ground ), authentic dance forms such as Jhumur, Bihu, Chau, Thaiyam and many others.
Now coming to the competition, there would be two rounds. In the first round, Aditi Munsi (Baguihati), Tulika Gangadhar (Nadia), Soumyo (Purulia) and Rishi (Malda) would compete in the folk genre. Dipan (Kolkata) and Adrij (Murshidabad) would compete in classical and Durnibar (Kolkata), Adrija (Konnagar) and Sairaj (Mirik) in light genre.
Two participants from each group would be selected for second round, where a champion in each category will be selected. And finally, one "champion of the champions" will be chosen amongst the 3 champions.
So, who do you think would manage to mesmerise the judges most and turn out to be the winner? To know the answer, it is better to wait for the right day.
And guess who would be the special guest for the evening?
Readers, it's 'The Arijit Singh'. Yes, the singing superstar will put up a grand performance for the evening.
The show will be aired on 10th January at 7 Pm on Zee Bangla.