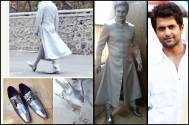 Aamir Dalvi turns super villain 'Mercury Man' in Life OK's Shapath
Aamir Dalvi has always achieved the 'impossible' as an actor, by setting new benchmarks for himself in the kind of roles he has taken up.
Now, as per the Tellychakkar.com exclusive, Aamir Dalvi's character of a cop in Life OK's popular show Shapath will go through a major transformation, from being the 'good man' to the 'ultimate baddie'.
Well, the very first story of the upcoming series, 'Return of the Super Villains' in the Fireworks Productions show will see Inspector Kavi's deadly super villain look.
And what we have heard is that Aamir will play the menacing super villain, called Mercury Man. His character will have enormous powers of multiplying with every drop of blood falling on the ground. And this will in fact make it an impossible task for the super cops to kill him.
As per a reliable source, "Aamir will have a very different get-up and look as mercury man. The main task of mercury man will be to kill the very existence of the super cops."
Will mercury man be successful in his mission? Get to watch Kavi's new avatar on 6 June.
When contacted, Aamir Dalvi told us, "Yes, I have had a journey of three years in Shapath. And usually an actor looks for something different beyond a point, and thinks of taking up something new. But for me, I was offered something drastically different in the same show. And this transformation into a super villain is something that I am looking forward to. I will be seen as a mercury man who would have the capability to multiply. The action sequences are of a different level and it has been a great experience working with Amin Bhai."
All the best, Aamir!!