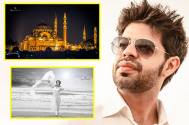 Ssumier S Pasricha on 'shooting' spree
Everyone cannot live his or her passion. It takes grit and courage to follow one's dreams.
But the talented, Ssumier S Pasricha, after showing his mettle in acting (Sasural Simar Ka), is now indulging in another passion of his- photography!
The actor's first stint with photography was during his Australia days. But when he came down to Mumbai and got busy with his acting chops, his passion took a back seat. Now, he has again decided to rekindle his romance with the lens.
Shared the actor, "I have shot my co-stars Manish (Raisinghan), Jayati (Bhatia) and also friends like Ankit (Bathla), JD (Majethia), Yash (Patnaik) and many more. It has been a superb time shooting them and I am really open to more clicks."
However, given his perfectionist nature, Ssumier tends to get a way to strict while on the click click job.
"I am very strict most definitely but not rude. I am someone who loves my art and don't like people who take it casually. I am really professional; be it acting or photography."
Talking further about his passion, the actor shared, "I am really keen on fashion photography but also enjoy clicking on the go. I love travelling to different places and clicking exotic pictures. I have my clicks on some of the best foreign magazines too."
And finally when quizzed on his comeback to TV, Ssumier said, "There are some good offers coming in and soon will return to TV. To be honest I am really missing shooting and really looking forward to make a comeback soon."
Wish you luck Ssumier!!!