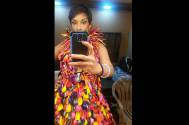 Aaradhna Uppal turns 'Queen of Balloon land' in Shapath
Life OK's popular thrilling show Shapath (Fireworks) will soon bring an interesting story soon.
The episode will be based in the Balloon land wherein the Queen will be all set to coronate the new king among her two sons. How the competition adds drama and crime in the tale, will be for viewers to see.
Playing the lead in this particular story will be the talented Aaradhna Uppal who was last seen in Sadda Haq. The roles of the young princes will be essayed by newbies Daljeet and Chirag.
Now the actress definitely had a really difficult time donning up for this role as she had to wear a costume more than 20 kgs. The gown made up of canvas, net and multiple linings, was adorned with balloons all over it.
Talking on the same, the pretty Aaradhna quipped, "It was a very challenging experience and I had a great time shooting for it. I was really pampered on the sets owing to the difficulties I had to go through wearing the heavy costume. The episode has been shot in a grand scale and would be really entertaining to watch."
The episode will air soon!