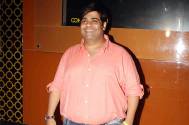 Arrest, bail, arrest: TV comedian Kiku Sharda faces tough act
Actor Kiku Sharda, known for his comic role in popular TV show "Comedy Nights with Kapil", was on Wednesday arrested, granted bail, released and arrested again for the same offence by Haryana Police.
Booked and arrested by Haryana Police following a complaint that he spoofed controversial godman Gurmeet Ram Rahim Singh of Dera Sacha Sauda sect, Kiku was sent to 14 days judicial custody on Wednesday by a court in Haryana's Kaithal town, hours after his arrest in Mumbai.
The actor was on Wednesday evening released on a surety bond of Rs.1 lakh by the Kaithal court and his release was ordered.
However, he was arrested again by Haryana Police, this time from Fatehabad district (near Hisar), for the same offence.
He is likely to be produced in the Fatehabad court on Thursday.
"I was busy shooting OnlineGurukul; just got to know, devotees are hurt due to Kiku's action. If he has apologized, no complaint from my side," Gurmeet Ram Rahim tweeted on Wednesday evening.
A Haryana Police officer said: "He (Kiku) was booked for hurting the religious sentiments of the followers of Dera Sacha Sauda sect. There were two complaints, one in Kaithal and another in Fatehabad, against him."
The complaints was filed against Kiku by followers of the sect, the officer said.
Kiku and eight others involved with the show "Jashn-E-Ummeed" were booked by Haryana Police on January 1 on charges of outraging religious feelings of any class by insulting its religion or religious belief under relevant sections of the Indian Penal Code.
Kiku was arrested by a Haryana Police team while he was shooting for another show in Mumbai early on Wednesday.
He was brought to Kaithal town in Haryana, 135 km from here, on Wednesday by police and produced before a court which sent him to judicial custody for 14 days.
Kiku was accused by sect follower Uday Singh of dressing up like Gurmeet Ram Rahim and mimicking the self-proclaimed godman.
"In the show ('Jashn-E-Ummeed'), he (Kiku) was shown dressed up like our respected guruji. He was shown with liquor and dancing with two girls. He did a mockery of guruji. Whosoever saw it, their feelings were hurt," Uday Singh told media persons.
The show, in which Kiku dressed up like the sect chief, was aired on December 27.
The actor had apologised, saying he never intended to hurt anyone.
He said he had only acted and dressed up as per the script of the show.
"Friends, the act was not to hurt anyone's feelings. My apologies to Gurmeet Ram Rahim ji and his followers. Let's spread happiness," Kiku had tweeted after the complaint was filed against him.
The attire and presentation of Kiku on that show resembled the dress, including a colourful cap, that the godman had worn in his own film recently.
The godman had himself acted in two films — "MSG: The Messenger" and "MSG 2 – The Messenger" — last year. Both films were the home production of the godman and his sect.
Haryana Chief Minister Manohar Lal Khattar on Wednesday refused to be drawn into the controversy.
"The government has no role. A complaint was filed with the police and action followed. The police will act as per law," Khattar said here.
"It is a thing of law and order. Somebody has lodged an FIR. Police will take action as per law. But we want to assure you that no one will be victimised unnecessarily," Khattar said.
Aam Aadmi Party (AAP) Lok Sabha member and actor-comedian Bhagwant Mann told media persons that not much should be read into the whole issue.
"The aim of the artistes is to entertain. They do mimicry of big artistes. I don't think there was any need to arrest him (Kiku). I am very surprised (that this happened)," Mann said.
Kapil Sharma, who shares the screen space with Kiku on "Comedy Nights With Kapil", tweeted: "I have an humble request to Sant Gurmeet Ram Rahim Singhji 'Insaan' that he should come forward before the media and stand in favour of an artist, who is trying to entertain and spread happiness, and set a beautiful example of humanity. Let's come and work towards peace and happiness."
The sect chief had found himself in the midst of a major controversy in May 2007 when he was accused of hurting the religious sentiments of the Sikhs and booked by Punjab Police.
Sikh organisations had accused Gurmeet Ram Rahim of wearing an attire in an advertisement, resembling 10th Sikh guru Gobind Singh.
The controversy led to violent clashes between Sikhs and sect followers, particularly in southwest Punjab.
The sect chief was booked by Punjab Police for hurting the religious sentiments of the Sikh community.