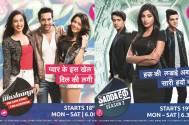 Channel V launches new youth fiction shows
After redefining the youth entertainment on Indian television in the recent past with fiction shows like Sadda Haq, Dil Dosti Dance and Swim Team, Channel V is now all set to launch 2 new shows exclusively for the youth. Upcoming launches on 18th & 19th January include two brand new shows – 'Mastaangi' and Season 2 of the highly successful show 'Sadda Haq.' The launches are backed by high decibel 360 degree marketing promotions across key markets and platforms, targeting the core audience.
Sadda Haq – S2 (Mon-Sat 6:30 pm) is set in a space research centre, a setup that has never been showcased on Indian television, where the lead female protagonist, Sanyukta, is a scientist working on Mission Mars 2020. The show retains the fundamental essence of Season 1[a girl in a man's world] while taking the scale a notch higher.
Mastaangi (Mon–Sat 6:00 pm) is an interesting love story which transcends two lifetimes. Set on the backdrop of a college, this love story is unique. The lead protagonists' were soul mates in the past life but their love story comes to a tragic end with both of them dying an untimely death. They meet again in a new life only to uncover the mystery of their past life and rekindle their love once again.
Apart from these new shows Channel V's teen crime show 'Gumrah': End of Innocence (Sunday 7pm) and sports based romantic drama 'Swim Team' (Mon-Fri 7 Pm) continue to be on air. All the new and current shows are available anytime on hotstar.
There are few more shows in the pipeline which are slated for launch in February and March 2016.