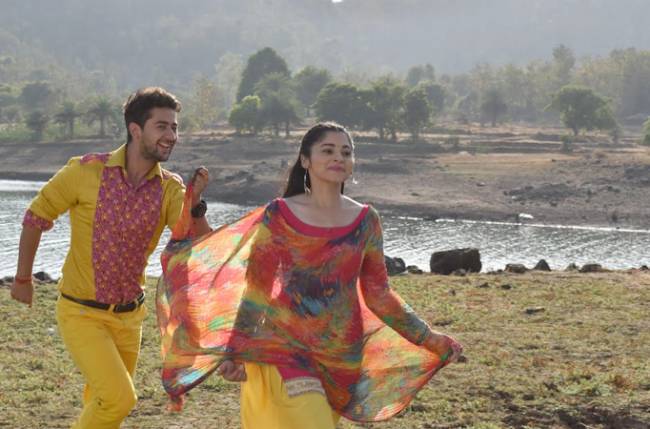 'BhaagGudduBhaag' themed wedding for Guddu and Funty on Sony SAB's BaavleUtaavle

MUMBAI: Sony SAB's latest show BaavleUtaavle seems to be promising loads of entertainment in its initial days itself, depicting small town romance with GuFu'sVisfotak Love story. As Guddu(Paras Arora) and Funty(Shivani Badoni) struggle to get married, another hurdle arises with BadiAmma's sudden demise.
Having faced so many hurdles in their wedding, Guddu and Funty have their marriage cancelled again due to BadiAmma's(Veena Mehta) sudden demise. However, as Bhaisaab(Vaibhav Singh) and Guddu's sister (Deepika) fool the family to get GuFu married, Amma(NeelamPathania) announces of having the marriage back on. As the families prepare for the wedding, the Pandit informs of having only 7.5 hours of the ShubhMuhrat left to get married. While both the families figure out ways to get GuFu married in 7.5 hours, they come up with the 'BhaagGudduBhaag' theme for the wedding and start sending out wedding cards in a hurry.
Will GuFu get married in 7.5 hours or will this hurried work lead to some more problems?
Paras Arora, essaying the role of Guddu said,"Guddu desperately wants to get married but the time doesn't seem to favour him and Funty. Now as his wedding is back on, it is going to be extremely amusing for the audience to watch as the family tries to get GuFu married in 7.5 hours. I am enjoying a lot working for BaavleUtaavle with such a lovely and talented cast."
Shivani Badoni, essaying the role of Funty said,"Although Funty is extremely curious to get married, there are some things that are going to put her in a dilemma. It will be interesting for our viewers to watch as Guddu and Funty handle the drama surrounding their wedding. It is an amazing experience to be a part of the sony SAB family and working for BaavleUtaavle."
Keep watching BaavleUtaavle, Monday to Friday at 10 PM only on Sony SAB