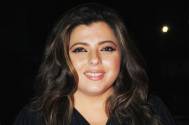 Find out what mischief Delnaaz Irani is up to these days
Well, being the Empress of the country is not an easy job to do, and bubbly actress Delnaaz Irani is surely doing it with élan while donning the role of Jodha in Big Magic's show Akbar Birbal (Triangle Films).
And this queen is up to some naughty plans these days. Wanted to know what is it? Well read on.
We recently heard that in a costume drama like Akbar Birbal, where wearing heavy ornaments are needed, the actress intentionally misses out wearing few of her jewellery to keep it light.
As we chatted with the chirpy, talented actress, Delnaaz candidly shared, "Though it may look gorgeous and nice on screen, it actually becomes difficult to wear such heavy outfits and so many jewellery for an actor, especially during summer seasons. So, many a times, I intentionally devoid of wearing few ornaments thinking no one will notice. But unfortunately every time I try this, my director quickly finds it out, making my plan an unsuccessful one."
So, aren't the royal ladies supposed to elegant and away from such cute mischief? Delnaaz quipped, "That is what I like about this character. Generally our shows and films portray royal characters as elegant and serious one, but even they had a personal life. And even after being bubbly my character has that poise and persona which is needed for Jodha".
Finally we quizzed her what if she was made queen for one day, and Delnaaz in a lighter vein quickly commented, "Probably I will rob Akbar's treasure and will go for shopping. I will spend the entire day pampering myself by visiting body saloons to get spa and massage. Just like a queen I will indulge in some luxurious spending."
We guess the phrase is true enough 'Live life King, oops Queen size'!!!