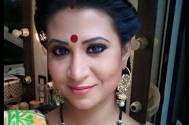 Find out why Parineeta Borthakur is happy with her look change in Swaragini
Pretty and talented actress Parineeta Borthakur, who recently had a change in her on screen appearance from an independent single Bong woman to a typical Marwari bahu in Swaragini (Rashmi Sharma Telefilms) on Colors, seems to be very happy with her new looks.
Wondering what made her so joyful?
Well the lady was previously asked to wear junk jewellery for her Bong avatar. And unfortunately, she suffered from skin allergies from those accessories.
When we spoke to the lovely actress, she mentioned, "Honestly speaking I used to like my Bong avatar much more than the typical 'Bahu' one, as it was way too classy from any look. But, on the other hand, I have allergies from artificial ornaments, so the current look without any neck piece is surely giving me a relief from dermatological problems. And I guess this is the reason I am gradually becoming fond of this new look."
As we continued to chat with her, Parineeta shared how she is managing her professional and personal life. With three year old adorable little one in her home, Parineeta is trying her level best to spend time with her son. "Well whenever I have a day off, my son takes all my time and makes sure that on that day I do all his jobs from feeding him to bathing him to everything."
"As a mother the best moments are when he keeps awake till late night only waiting for me to return even after I had asked him to take his bed early. And if my sister or mother-in-law is around he asks them to help him send me cute voice message on Whatsapp stating how much he loves me and return home quickly."
Aww, isn't it really sweet readers? Well we guess such is the bond between a mother and her child.
We wish a healthy life for Parineeta's little boy and wish the mummy dear all the success.