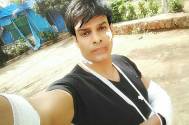 Kapil Arya enjoyed being 'beaten up'
Zee TV's popular show Doli Armaanon Ki (Spellbound Productions) has been adding a lot of spice post the leap in its plot.
Now in the coming episodes, a hard hitting action packed sequence will enthral viewers.
Karan (Kapil Arya) and Diya (Neha Sargam) will be out on a date, when the rouges against whom Diya had been writing about will attack the couple. Also with Karan having taken loan from these goondas, they will beat him up badly.
When we buzzed the good looking actor he quipped, "It was a very interesting sequence, but also very exhausting Since it was also a night shift, we really had a difficult time getting it done. But yes it was fun and I really enjoyed it."
Kapil who has earlier worked as a cop in Shapath has had experience of beating up criminals. When asked what his emotion was being on the other side of the game, he said, "I think one should enjoy every experience and it was thus a fun thing. Now if somebody asks me about how it feels to be thrashed, I would be able to give a lot of inputs. Now I know both sides of the coin, and thoroughly liked them."
And finally when we quizzed him on whether he has being hit in real life, the charming actor replied, "My mom has really beaten me up quite a lot. Bohot peetai huyi hai. And although I wouldn't be hurt, I would do a lot of drama so that she would feel guilty about her act and shower me with more love (smirks)."
Great going Kapil!!!