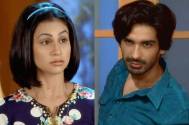 Mannu to divorce Somendra in Zee TV's Sarojini; Aanchal's stint to end
Zee TV's Sarojini (Rashmi Sharma Telefilms) has something exciting coming up for its viewers.
Recently, we saw the lead of the show Sarojini (Shiny Doshi) going desi to videshi and now called Suzi.
In the coming episodes, Suzi will fix a deal with Mannu (Aanchal Khurana). According to the deal, Suzi will pay Mannu 100 crore and in return she will have to sign divorce papers and leave Somendra (Mohit Sehgal). The greedy Mannu will readily agree and leave the house.
This track reminds us of the popular movie Judaai, wherein Urmila Matondkar had paid a hefty amount to Sridevi to leave her husband.
Well, coming back to the show, according to our sources, Aanchal Khurana's track will come to end, but she might make a comeback.
Aanchal confirmed and shared, "Yes, my track is coming to an end. Right now I am on a break, but if needed I might comeback to once again create havoc in the couple's life."
Good luck Aanchal!