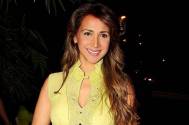 TV industry is booming: Ritu Shivpuri
Ritu Shivpuri, who is set to make her comeback to acting after a decade, believes that the television industry is "such a great platform" as it is booming.
"I was basically looking at doing TV. I will do films only if they have substantial roles. I just don't want to sit in the background and do nothing. In TV, they are not going to cut any of your work and I think TV industry is booming and it's such a great platform today," Ritu, who has featured in movies like "Aankhen" and "Hadh Kar Di Apne", told IANS.
Talking about her projects, she said: "I am doing one TV project which is very interesting. But I can't talk about it right now. The announcement about it will be made soon. Besides that, I am also doing three films which are very exciting."