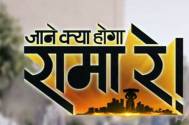 Review: Life OK's Jaane Kya Hoga Rama Re
Known for narrating heart touching stories like Ek Mahal Ho Sapno Ka, Mukti Bandhan, Hum Pardesi Ho Gaye, Naam Gum Jayega, Mamta and many more, Shobhna Desai Productions is back again with its latest offering on Life OK, Jaane Kya Hoga Rama Re.
The makers, who have always presented us with relatable, warming tales, lack the special magic and charm inJaane Kya Hoga Rama Re. Unfortunately, this time they fail to strike the right chord with audiences' heart.
From the glimpse of the very first episode, what we can figure out is that it will be a story of two contradictory head strong characters Nandu and Raju. While Nandu plays a cop, Raju is a ruffian young boy, who gets engaged in petty fights. Like numerous Bollywood flicks we can expect these two independent characters falling head over heels in love.
What really draws our attention and makes us curious is the mysterious dark past of the two protagonists. Raju hates his father so much so that, he never even misses a chance to insult any father figure. On the other hand, Nandu hates every single man, and picks up a fight with Raju even at a single chance.
Coming to the acting part, while Vinti Idnani aka Nandu needs some time to get into the skin of the character, male lead Jatin Sharma surely impresses us. Though much was not expected from this new talent, Jatin has rightly picked up the mannerisms of a rowdy young guy, which makes him the perfect choice for Raju. The supporting cast looks decent, especially Mihir Mishra deserves a special mention.
We are forced to give due credits to the production team for refined camera work and set design. But one loophole we could not miss is to point out the editing. In a particular scene, Nandu drives her sister's in-law's car just to teach them a lesson, and in the very next moment someone else drives off with the car, while Nandu is not on the driving seat. Now, we are left clueless and wonder about this new 'unseen' driver.
On the whole, the show looks promising and will make a way into the audiences' heart once it picks up pace. And without mentioning, we are eagerly waiting for Supriya Pathak's entry in the daily. We are sure that her power packed performance will change the series for the better.