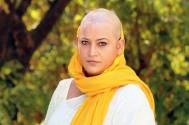 Rinku Karmarkar excited about new bald look
Actress Rinku Karmarkar has shaved off her head for her role in TV show "Yeh Vaada Raha". She says it's her "madness" as an actor that she has ended up letting go of her tresses.
Rinku, best known for her roles in TV shows like "Na Bole Tum Na Maine Kuch Kaha" and "Kahaani Ghar Ghar Kii", was nervous before the makeover.
"Honestly if you ask me, I'm nervous but at the same time excited about the whole thing because I had only shaved my head as a child and post that, I've done it now," Rinku said in a statement.
"There is a madness in me as an actor and for the character that I am playing. That madness is not only present in Rinku or Taai from 'Yeh Vaada Raha' but I have seen it in the show's writer-producer Mahesh Pandey as well. I would like to thank my hairdresser for giving me different looks till date but now she will not have much to do after this," she added.
"Yeh Vaada Raha" is aired on Zee TV.
The current track of the show will witness a surge of drama and emotions, and Rinku's character will decide to shave off her head to protest a development.