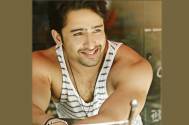 Shaheer Sheikh to play the lead in Yash Patnaik's next for Sony TV?
Shaheer Sheikh, the blue-eyed boy of television seems to be back in action!!
Yes, the handsome hunk has been keeping away from doing television, ever since his stint as Arjun ended in Star Plus' Mahabharat.
But now, he is in advanced talks for grabbing the lead role in Yash Patnaik's Beyond Dreams' upcoming show on Sony TV, is what we hear.
Yes, if all goes well, Shaheer will finally be back on your TV screens!!
Woot!! Woot!! His female fans will certainly be happy with this piece of news…
As we know, Shaheer has been out of action from 2013. But he has certainly not been out of work, as he had been busy with his Indonesian project, Turis Romantis and Cinta di Langit Taj Mahal.
As per a reliable source, "With Shaheer getting back from Indonesia, the lucky chap has indeed been in demand with offers pouring at him. At this juncture, it looks very likely that he will sign on the dotted lines for Beyond Dreams' show for Sony TV."
As reported earlier, Sony TV is presently working on three fiction shows, of which the Beyond Dreams project happens to be one. This will be a youth based show with the essence of love.
When we buzzed Shaheer, he replied via text, "Well I have few shows offered and I will choose whatever suits my bill the best. I am still in Indonesia, wrapping up the proceedings here. I am in talks for the Beyond Dreams show too, but I will have to meet them and decide."
We also dropped a text message to Producer Yash Patnaik, but were not successful in getting a reply.
Our efforts to reach out to the channel spokesperson were also futile.
Are you already excited to see Shaheer back on screen? We too really hope he gets back at the earliest…