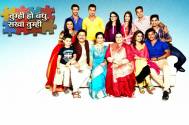 Shreya to expose Ajay-Sanjana's secret wedding in Tumhi Ho Bandhu…
Zee TV's Tumhi Ho Bandhu Sakha Tumhi (Shashi-Sumeet Productions) will see a major high point in this weekend's maha episode..
Well, the stage will be set for Mama and Mami's anniversary celebrations, and the entire Pethawala family will be in a joyous and celebratory mood. Amidst this, Shreya (Sreejita De) will play her game to expose Ajay (Kabeer K) and Sanjana's (Chandni Bhagwanani) secret wedding before the Pethawala family.
Yes, and this will be followed by some high voltage drama..
Shreya will call Sanjana's father (Amit Singh Thakur) on a wrong pretext, and force him to come to the Pethawala house. At the same time, Shreya will also call Sanjana home. And she will let the cat out of the bag that Ajay has in fact married Sanjana.
As per a reliable source, "The happiness of the entire family will come to a standstill with the revelation. Mama and Mami will be shaken after knowing of Ajay's wedding. However, in order to maintain the dignity of the family, Mamaji (Tushar Dalvi) will tell Sanjana's father that they will accept Sanjana as the bahu of their house."
With this Sanjana, will start living in the Pethawala house. But the twist in the tale will be that none in the family will be ready to forgive Ajay and Sanjana's act, and they will stop talking with them.
Will Ajay and Sanjana win back the love of their family?
We tried calling Sreejita, but did not get through to her.
Watch this space for more updates..