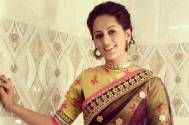 Vibhuti Thakur to feature in Life OK's Savdhan India
Actress Vibhuti Thakur who was last seen in Doli Armaanon Ki has bagged an interesting role in an upcoming episodic in Life OK's Savdhan India.
Vibhuti is presently waiting for a well-etched role in a daily soap. But that does not stop her from picking up challenging roles in episodic tales.
The girl is presently in Lucknow, all set to shoot for Idea Hub's newest story, which will focus on a case of child kidnap, followed by the brave fight back by the kid's mother.
As per sources, "Vibhuti will play the mother, and her role will be extremely positive."
When contacted, Vibhuti told us, "These episodic shows are similar to movies on the small screen, wherein you get to perform quite a lot in the given one hour. I always have the happy feel essaying such episodic characters."
Way to go, Vibhuti!!