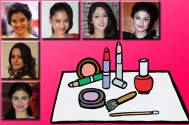 Summerspecial: TV beauties share their make-up tips
Summer means a big 'no' to make-up as it can ruin your skin. But a little bit of kohl, gloss, and base are necessary to fix the flaws and highlight the features…but how does one look picture perfect in the heat? Worry not, we asked our TV beauties to spill their best 'heat-proof' make-up tips…read on:
Sukirti Kandpal: For me summer means no make-up. I would suggest all the girls to apply kajal, lip gloss, and a light base to look natural and fresh.
Anita Hassanandani: The most important thing is to wash your face with a gentle facial cleanse. Use loads of rose water to keep your skin dewy. Use minimal make-up like lip balm, blusher and kajal. Make sure to apply sun-block every time you move out.
Mouni Roy: Hydration is the best way to keep your skin clean. Make sure you wash your face frequently. Go for very light make-up and use vibrant colours to look glamorous.
Sumona Chakarvarti: Opt for very less make-up. Go for a clear, nude, light pink or peach-orange gloss. Natural colors are the key here.
Krissann Barretto: During the summers, I apply studio fix by MAC. I prefer very light eye-shadow and not too much kajal. Go for bright lip shades for the prefect summer look.
Ragini Khanna: Apply waterproof make-up to avoid smudging and sticking. Drink lots of water and nariyal pani to stay cool!
Like the tips? Let us know in the comment box below.