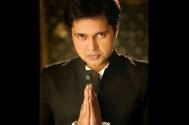 Vipul Deshpande to feature in Colors' Code Red
Actor Vipul Deshpande was being typecast in the role of a cop on TV shows. And it has now taken him 18 months to bag a role other than the one with the uniform.
Last seen playing a cop in Pyaar Ka Dard Hai Meetha Meetha Pyara Pyaara, Vipul will now play the negative lead in Colors' Code Red – Awaaz, produced by Sunshine Rise Productions.
The episodic tale will be about farmers' suicide in the Vidarbha region.
Vipul will play the role of a rich zamindar Raja Bhau who will be the main culprit who will give the farmers fake products of seeds and fertilizers. When the farmers would fail to get good crops, he will immerse them deep in loans, and give them substandard crops again. This process will continue till the farmers would grow poorer by giving away their lands and houses. This will lead to a big problem of the farmers committing suicide.  The manner in which Kabir (Yash Sinha) will fight against this corruption will be an interesting story to watch.
When contacted, Vipul confirmed the news stating, "Yes, I play a negative lead in Code Red. It was an interesting role, with lots of scope to perform as it had varied emotions and layers."
This particular episodic tale will air tonight on Code Red.